Traveling Lantern shows are fast-paced, funny and interactive, and encourage audience participation. They are appropriate for K-8 aged children and their families.
Shows are performed by 2 actors, and last about 45-50 minutes. Set up time is a half an hour or less, and is the same for breakdown. We bring everything we need, and can perform in many different types of spaces, including outdoors. (Please call if you have any questions about your space.)
Patrons are welcome to use our shows as fundraisers by charging admission.
Click here to download a printable version of this page

The Industrious Mr. Franklin
Lightning, Wit and Statesmanship!
Meet the intrepid inventor, quipping author, productive scientist, and founding father: Mr. Benjamin Franklin.

You'll travel with him, meet his friends, help him in is work and learn all about the courageous and diligent man who tamed electricity with a kite and a key.

This new play is a fascinating and humorous romp with one of America's most endearing historical characters.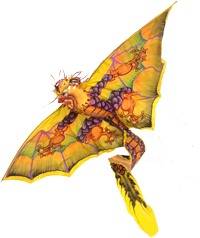 Bilbo's Journey
A grand story of peril, wonder and daring!
Children are sure to enjoy the cherished tale of a home- loving little Hobbit who finds himself on an adventure he could never have imagined!

On the way he meets elves, trolls, a wizard and a dragon... and ssssomething ssstrange called a Gollum.

This play is suitable for children of all ages!
A Christmas Carol
The Classic tale of a miser's redemption.
Ebenezer Scrooge is a nasty, mean, snarling old geezer with no care for anything other than his money.

His one and only friend visits him as a ghost, and starts him on a journey that melts his icy heart and teaches him the joys of caring for, and giving to others.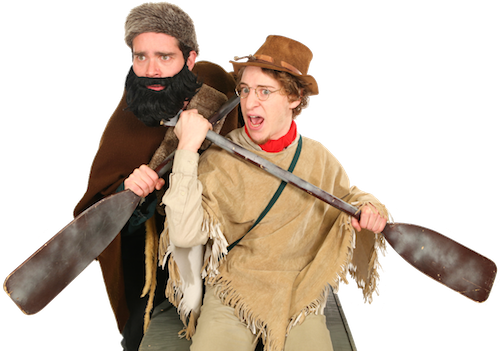 Lewis and Clark
Two brave friends begin the perilous journey of the Corps of Discovery!
Join our daring explorers, Meriwether Lewis and William Clark, as they scout and map the unknown beauty of our newly expanding nation.

Help them find their way as they meet Native Americans, canoe down mighty rivers, and become the first to see the grandeur of the northwest as they follow the sunset to the ocean and carve out the Oregon Trail.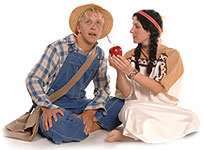 Johnny Appleseed
Planting apples and wisdom.
John Chapman, an early American naturalist, travels the newly- expanding nation learning from Native Americans, and spreading his growing knowledge to the pioneers.

He plants both apple seeds and a love of nature wherever he goes.

His lessons of environmental stewardship, conservation and sustainability are especially relevant to children today, as they learn to protect and respect the beauty of nature around them.

Greek Mythology
Stories of Gods and heroism from the ancient civilization by the sea.
From their protected perch on Mount Olympus, the Gods
of ancient Greece wrap their magic and subterfuge around the humans they choose to meddle with. Their manipulations influence the futures of the mortals who live far below them in a world bound by the realities of life and death.

The important question of whether our choices can alter our fate is the eternal riddle of these fascinating and timeless myths.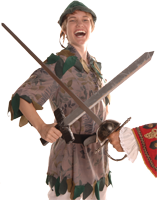 Peter Pan
The treasured tale of an adventurous boy who
never grows up!
Fly away with the Darling children to Neverland, where Peter battles with a band of pirates and his arch enemy: the villainous Captain Hook.

Peter is a daring, courageous andmischievous boy - an incurable prankster with a valiant heart.

This ageless story of love and bravery is one of our most popular shows.
Click here to download a printable version of this page