K.B. Mercer and Doren Elias are busy professional actors who moved to Portland, OR from San Diego, CA in 2008. We are a married couple, and we own and operate Traveling Lantern as our day job. We do it all: write, direct, design, administrate, hire and inspire. When you call, you'll be speaking to one of us. K.B. is a graduate of the Professional Actor Training Program at the North Carolina School of the Arts, and has had years of other specialized training at schools like: Playhouse West in Hollywood, and The William Esper Studio in New York City. Doren has a B.F.A. from the University of Texas in Acting and Directing where he graduated summa cum laude. We have been teachers in various school systems including, San Diego, Pittsburgh and Austin. We have developed and performed educational programs during the past 25 years for organizations like: The Old Globe Theatre; The San Diego Repertory Theatre; Carnegie-Mellon University and The Pittsburgh Playhouse; various Parks and Recreation Departments; a consortium of private schools in the Virgin Islands; Texas School for the Deaf; Pittsburgh Children's Museum; and the Mainly Mozart Festival in San Diego and Tijuana (which was funded by a grant from The Coca-Cola Company), and the National Park Service at Yosemite.
We are proud to hire young actors and give them a chance to develop their skills as they begin their professional careers. We were each in third grade when we saw an assembly performance that changed our lives, and pointed us to our chosen careers. Now, we have the wonderful opportunity to bring the magic of live theatre to other children.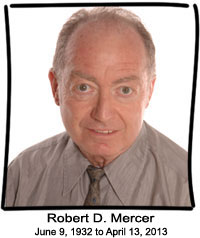 Bob Mercer, Co-Founder
K.B.'s dad,
Bob
, had over 50 years experience as an aerospace physicist. His early experience as a Flight Test Engineer led him into the brand-new and exciting Space Program. Besides designing, writing and managing software for the earliest digital computers, he worked with the very first United States astronauts. Among many responsibilities, Bob helped the astronauts with their training and operational tasks, and debriefed them upon mission completion. This in turn led to his becoming Principal Investigator for experiments performed during orbits of the moon. He received a U.S. flag that went to the moon in the Apollo 16 orbiting spacecraft, which was presented to him by the astronauts. In later life he worked with large engineering teams to create complex systems that travel both within the earth's orbit, and to distant outer planets. He also taught at OLLI in Tucson, AZ, during his retirement.
Bob was always involved with youth, and his help as CFO of Traveling Lantern was a side job that he took on with relish. His dedicated support, in so many ways, is the reason this company exists, and we are so thankful for his many contributions. We hope to develop some science and space-related performances, in his honor, in the future.